Product Information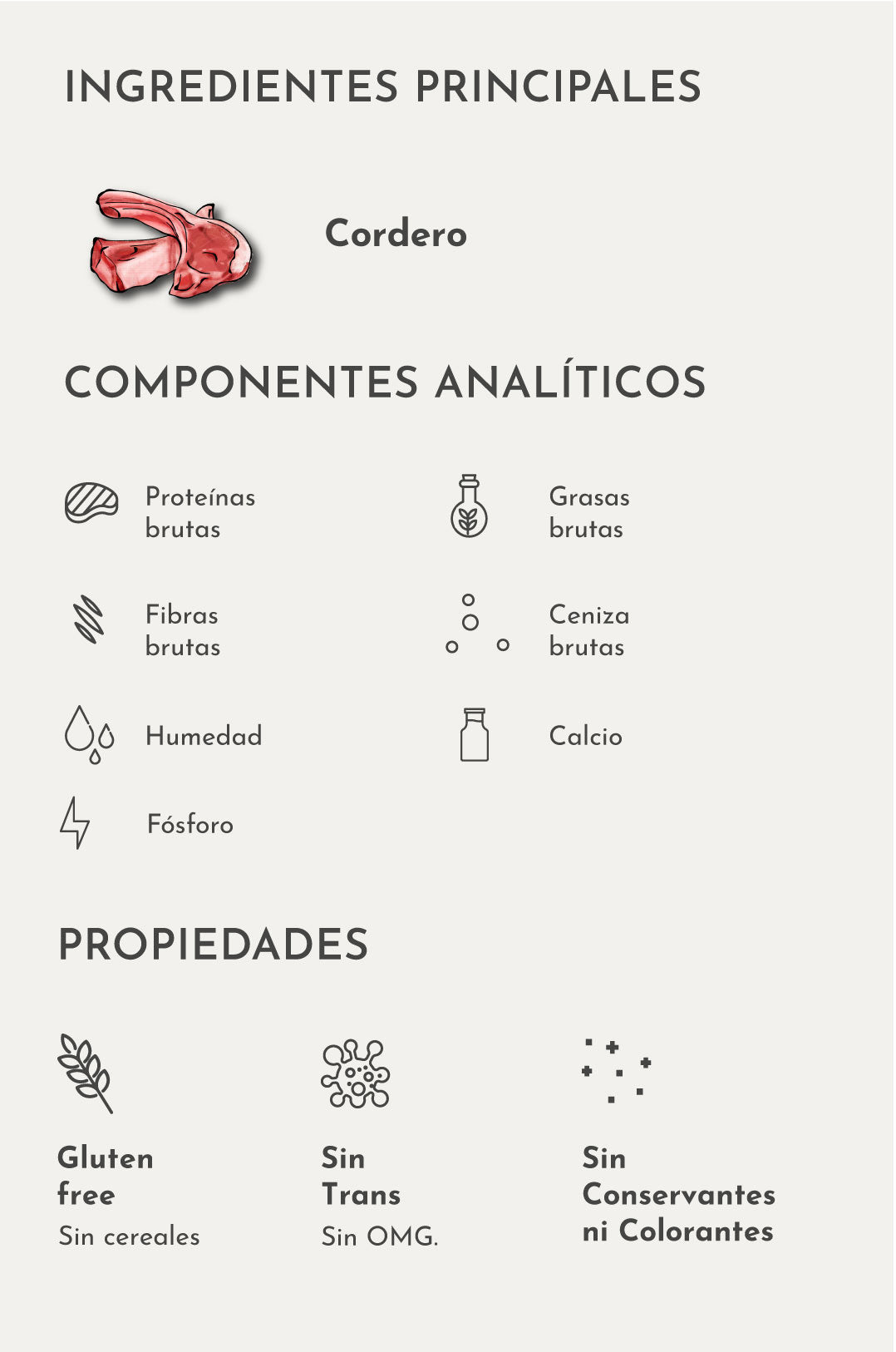 Wet food for dogs that provides all the energy, nutrients, vitamins and minerals necessary for the proper functioning of your pet's body.
Important:
Fresh meat, 70% of Lamb.
Monoprotein, lamb as the only source of animal protein. It is a food of excellent nutritional value, with proteins of high biological value, highly digestible and with a low allergenic power that help to prevent food intolerances.
With natural ingredients, lamb cut, not crushed.
Composition:: Lamb 70% (muscle meat, organ meats, lungs, liver), Broth
Analytical Components: Crude Protein 10%, Crude Fat 5,5%, Crude Ash 2%, Crude Fibers 1%, Moisture 81%, Calcium 0,17%, Phosphorus 0,17%.
Additives (per kg): Vitamin D3 300 IU / kg, Vitamin E 40 mg / kg, Zinc Oxide 30 mg / kg, Calcium Iodate 0,25 mg / kg, Manganous Sulfate 2 mg / kg. Copper Sulfate 3 mg / kg
Metabolizable Energy:: 920 kcal / Kg.
Is it the first time you feed your pet with Retorn?
You can feed your pet only with cans or mix it with your usual daily food.
All our recipes are complete (not complementary) and provide all the energy, nutrients, vitamins and minerals necessary for the proper functioning of your pet's body.
Can only

MIX

Weight (Kg)

Grams / Day

I think (g)

Wet (g)

1 - 5

105-350

15-45

55-185

5 - 15

350-805

45-105

185-420

15 – 60

805-2275

105-300

420-1200
Very tasty and appetizing, the ingredients are chopped, not crushed. This helps make it much more pleasing for your pet.
Hydrodiet, hidrating recipes made with a high water content that favors hydration, improves palatability and helps digestion of your pet. The water we use is a low mineralizing water that helps the digestion.
The recipe is formulated with a balanced content of proteins, fats and fibers. We recommend varying the different flavors of Retorn cans range in your dog's habitual diet, so your dog different flavorsWe recommend varying the different flavors of the cans in the Retorn range in your dog's usual diet.
Customer Reviews
Awesome
We have tried different flavors of wet food and Wilson has chosen lamb. He loves it.
keep it up
My dog ​​loves it! I mix it with the dry feed and there is not a single nugget left on his plate
The best!!
I have a boxer who is allergic to chicken and very delicate, and these cans of Solo Cordero, in addition to being wonderful for her, she loves them! I don't trade them for anything.
Thank you
Unbeatable quality
My dogs have been eating I think for years, Return. it suits them very well
he loved the food
Our dog loved this food. healthy and natural
only lamb
He loves it!! Yeah, he goes crazy when he sees the can!
Free shipping from € 39
Enjoy free transport to the Peninsula on any order equal to or greater than € 39.
Satisfaction Guarantee
If you and your pet are not satisfied, you can return it. Check conditions.
Personalized advice
Ask and solve your doubts with our experts by chat or email.