Product Information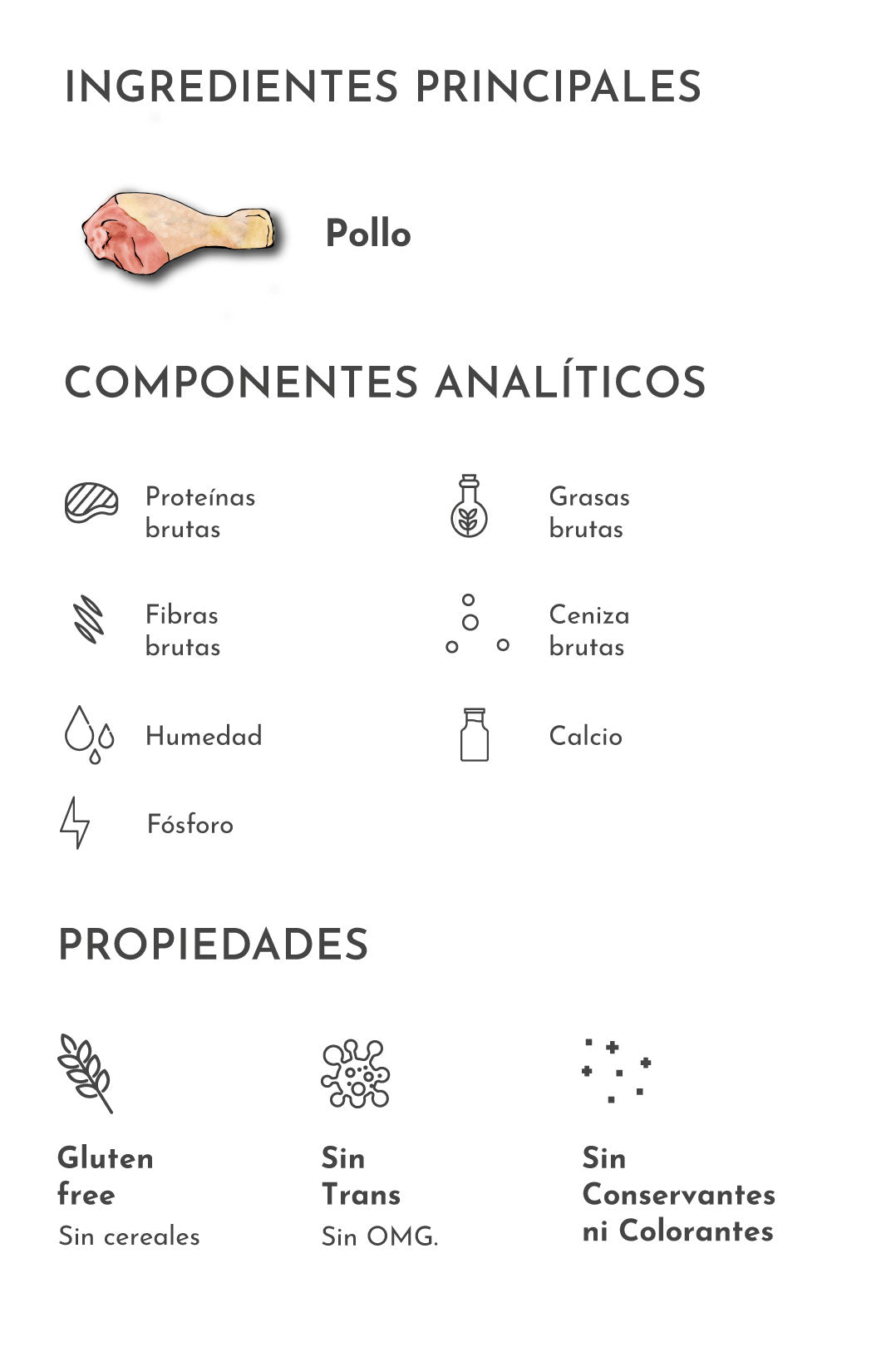 Wet food for dogs that provides all the energy, nutrients, vitamins and minerals necessary for the proper functioning of your pet's body.
Important:
Fresh meat, 70% of Chicken.
Monoprotein, chicken as the only source of animal protein. It is a food of excellent nutritional value, with proteins of high biological value, highly digestible and with a low allergenic power that help to prevent food intolerances.
With natural ingredients, chicken chopped, not crushed.
Composition:: Chicken 70% (muscle meat, liver, gizzard / heart), Broth
Analytical Constituents: : Crude Protein 10%, Crude Fat 6,5%, Crude Ash 2%, Crude Fibers 1%, Moisture 81%, Calcium 0,4%, Phosphorus 0,27%.
Additives (per kg): Vitamin D3 300 IU / kg, Vitamin E 40 mg / kg, Zinc Oxide 30mg / kg, Calcium Iodate 0,25 mg / kg, Manganous Sulfate 2 mg / kg. Copper Sulfate 3 mg / kg
Metabolizable Energy:: 962 kcal / Kg.
Is it the first time you feed your pet with Retorn?
You can feed your pet only with cans or mix it with your usual daily food.
All our recipes are complete (not complementary) and provide all the energy, nutrients, vitamins and minerals necessary for the proper functioning of your pet's body.
Can only

MIX

Weight (Kg)

Grams / Day

I think (g)

Wet (g)

1 - 5

95-320

20-45

60-160

5 - 15

320-725

45-105

160-360

15 – 60

725-2050

105-330

360-1000
Very tasty and appetizing, the ingredients are chopped, not crushed. This helps make it much more pleasing for your pet.
Hydrodiet, hidrating recipes made with a high water content that favors hydration, improves palatability and helps digestion of your pet. The water we use is a low mineralizing water that helps the digestion.
The recipe is formulated with a balanced content of proteins, fats and fibers. We recommend varying the different flavors of Retorn cans range in your dog's habitual diet, so your dog different flavorsWe recommend varying the different flavors of the cans in the Retorn range in your dog's usual diet.
Customer Reviews
Loki loves it
Loki is a 6-year-old mixed-breed pinscher, when we adopted him 2 years ago he had many stomach and jaw problems and was malnourished. He recovered by feeding himself for the first few months only with Returnn's wet food.
Every morning it is still his breakfast, now he also eats I think. He loves it and this one with only chicken is one of his favorites
Perfect Car
My dog ​​has a lot of allergies and this works great for her.
Terrific
Very good quality ingredients.
Rocky loves it!!
great
It is the best food that my dog ​​has had, she loves it
my dog ​​likes it
I wish they had food with a little sauce so it doesn't dry out right away. My dog ​​doesn't eat it all and when she's open she doesn't like it
My dog ​​likes it, and very well
I complain about the amount of gelatin that you put in it, it is an exaggeration, the gelatin also weighs about 100--150mg,
I'll take a photo and I'll weigh it
Wet food
Very good quality of food
only chicken
We liked it a lot, especially my dog.
Ideal for food allergies
My dog ​​has several food allergies and chicken is the only thing she can eat, as far as meats are concerned. This pate allows you to eat chicken without a thousand artificial additives. I've been eating it every day for years.
Wet Dog Food Only Chicken
Free shipping from € 39
Enjoy free transport to the Peninsula on any order equal to or greater than € 39.
Satisfaction Guarantee
If you and your pet are not satisfied, you can return it. Check conditions.
Personalized advice
Ask and solve your doubts with our experts by chat or email.