Product Information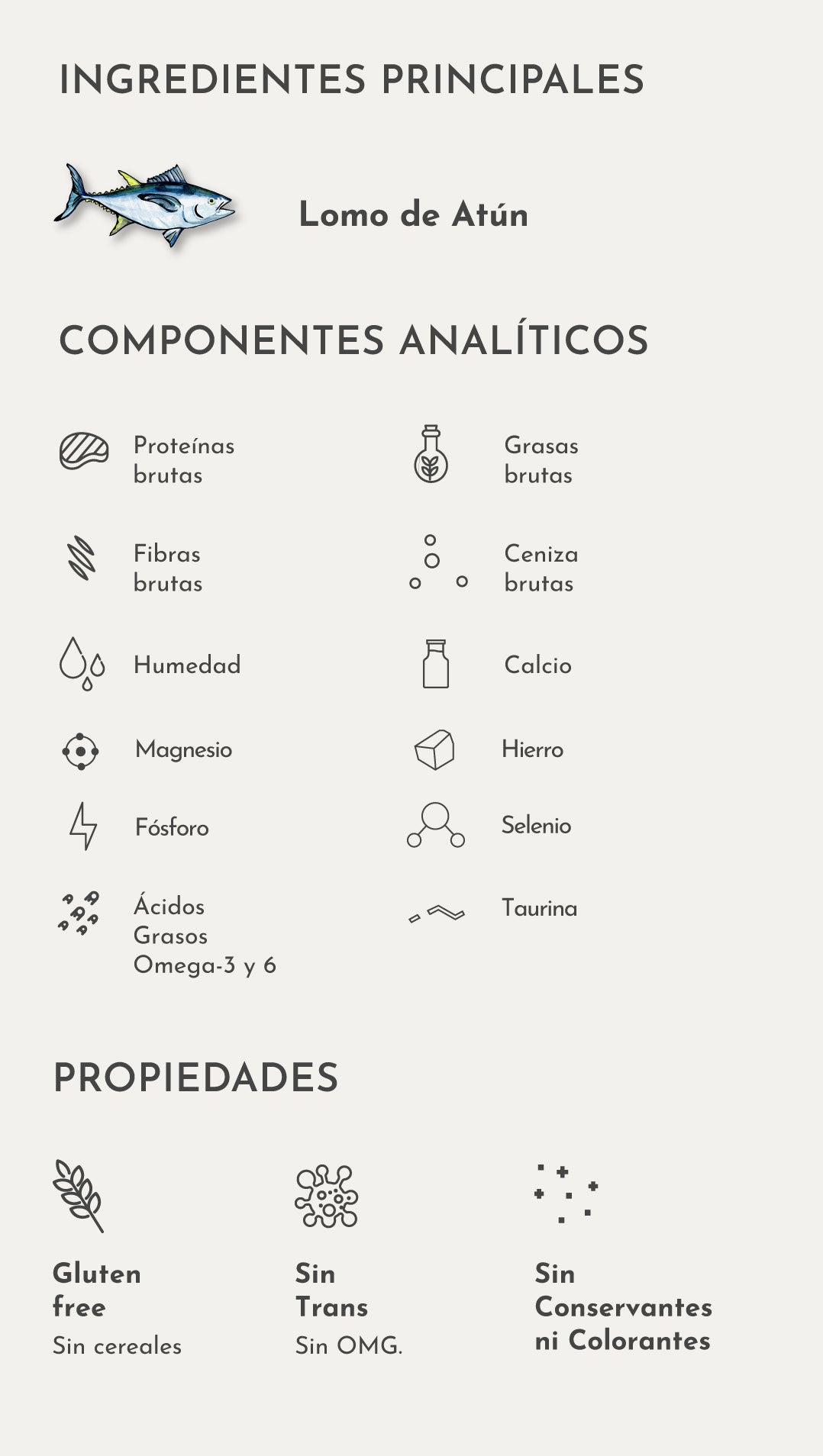 Do you need to reward your kitty with small treats? the snacks Tuna Jerky Treats for cats they are your solution. Small chips of dehydrated tuna fillets for all types of cats.
Small bits of snack made from 100% dehydrated tuna, without aromas or preservatives. They have a very attractive smell for cats and it is 100% natural. In addition, the Tuna Jerky Treats they are sustainable, since we take advantage of parts of tuna with a high nutritional value that, by appearance, are wasted.
You can use them as a reward for good behavior and mix smaller, crumbly remains with your favorite everyday dry food/cans for flavor.
You will see how they go crazy!
Tastier for a concentrated flavor. When using sangacho as the main ingredient, the flavor and concentration of nutrients is very high.
A low fat food that contributes to sustainability. Why? Many parts of tuna are wasted because of their appearance, despite being far superior in nutritional value. Retorn is committed to valuing these ingredients and avoiding food waste.
Composition:: Tuna 100%
Analytical Components: Crude Protein 72,1%, Crude Fat 9%, Crude Fibres 0,4%, Crude Ash 7,7%, Moisture 9,6%.
Metabolizable Energy:: 3839 Kcal / Kg.

WITHOUT ADDED PRESERVATIVES OR COLORS
Customer Reviews
Fantastic
A useful and healthy option to give treats to my michis. I had been looking for something like this for a long time so I was very happy.
Fantastic!!!
I received a free sample of Tuna Jerky Treats for cats in the previous order of Retorn cans for my three cats. A success, all three were enthusiastic, they love it and it is something natural and good for them. So in this order I have already bought them for a good season.
Very well
My cat loves it. And he seems healthier than the typical cat treats.
they don't like them very much
They seem ideal to me because they smell great, but they don't love them, one of them does, a little more, but they get tired right away
pulverized
It arrived (literally) dusted by transport, I have not given it to my cats yet but the idea of ​​giving them one or two as a gift or prize with that format cannot be applied, it will be empty directly on a plate
tuna snack
I bought them for my cat. I didn't know if he would like them because he is quite special with food. Well, he loves them and I can give him I use it to eat the flexadin (he just doesn't eat it even as a joke). Before, I used some sweets that were sold at the vet, but this seems much more natural to me and, in my opinion, healthier. I am happy with the result of the purchase. Happy because my cat likes it.
Loves it
I've been buying it for a while with each order, it drives him crazy
They do not like it
I'm so sorry, but my Cats don't like it. he gags at them
Good morning Esther, thank you for your comment, it will help us to continue improving.
Have a nice day.
Perfect
They love them! I will buy more
Free shipping from € 39
Enjoy free transport to the Peninsula on any order equal to or greater than € 39.
Satisfaction Guarantee
If you and your pet are not satisfied, you can return it. Check conditions.
Personalized advice
Ask and solve your doubts with our experts by chat or email.