Product Information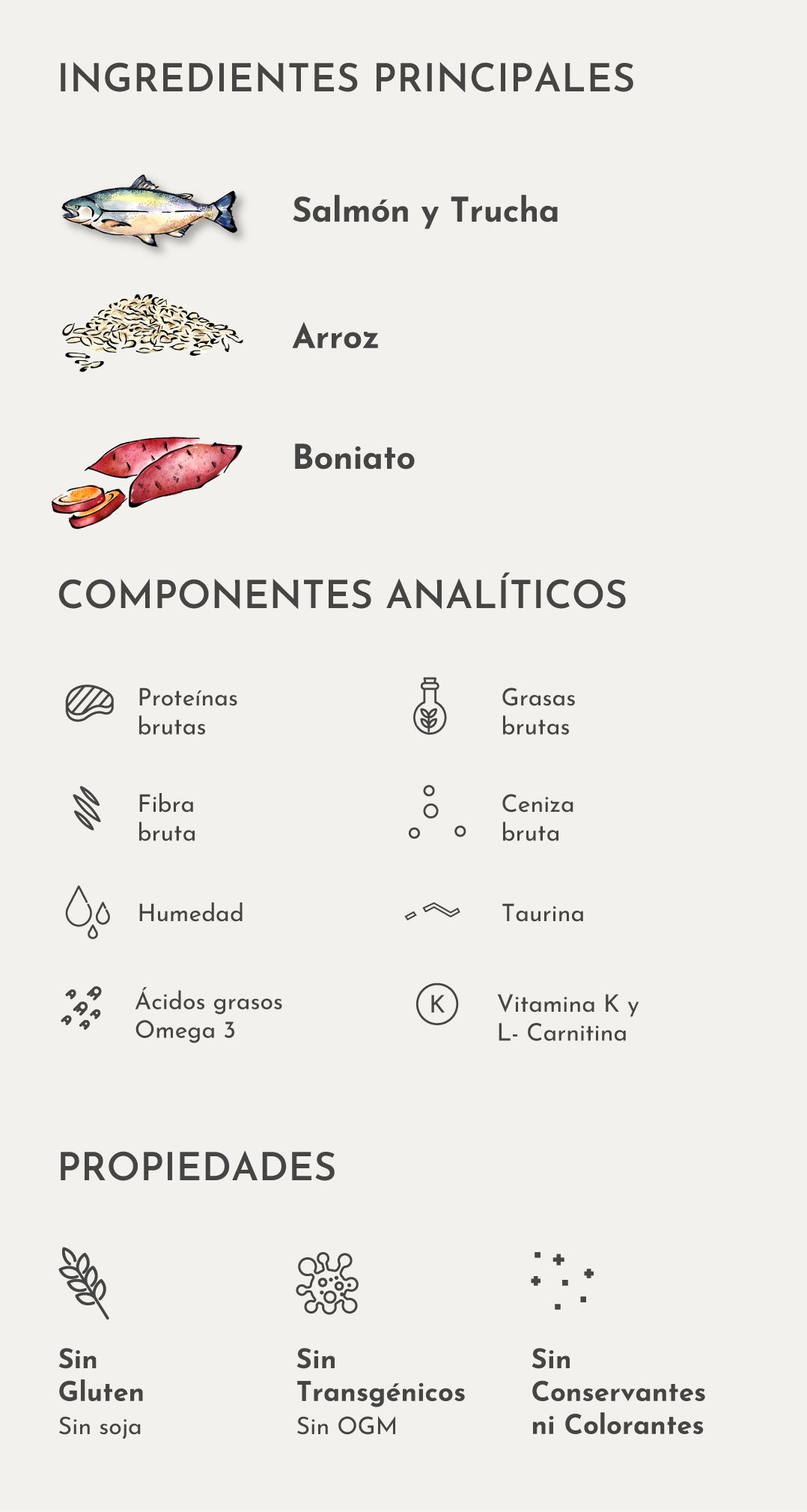 Do you need Natural foods for cats of fish? At Retorn we offer you a natural product that will meet the needs of your feline. Therefore, we offer you a recipe that meets the expectations of your furry friend.
A complete food Fish, rice and sweet potato for adult cats. The recipe contains 37% fish (salmon and trout). We also add salmon oil (rich in Omega 3) to maintain the care of the skin, coat and joints. And also add a extra source of Taurine.
We also add prebiotics and chelated minerals to stimulate intestinal development. In this way we achieve lighter and more beneficial digestions for our cat. Therefore, we have a feline that develops in a healthy and healthy way.
We will make your kitten enjoy eating!
Composition: Dehydrated Fish 37% (Dried Salmon 20%,
Dehydrated Trout 17%), Rice* (26%), Sweet Potato* (17%), Dry Egg Product,
Chicken Fat, Pea Fiber, Plasma Proteins, Hydrolyzed Protein
of Chicken, Potassium Chloride, Cell Walls of Yeasts (source of
MOS and β-Glucans), Glucosamine, Chondroitin Sulfate, Mojave Yucca.
Additives (per kg): Vitamins: Vitamin A 22500 IU, Vitamin D3 1800 IU, Vitamin E 300 mg, Vitamin K3 6,75 mg, Vitamin B1 10 mg, Vitamin B2 20 mg, Vitamin B 65 mg, Vitamin B12 0,05 mg, Vitamin C 35 mg , Pantothenic Acid 9 mg, Folic Acid 1,5 mg, Nicotinic Acid 35 mg, Biotin 0,4 mg, L-Carnitine 20 mg, Betaine 180 mg, Taurine 1800 mg, Choline 1000 mg.
Trace Element Compounds: Zinc (Hydrated Amino Acid Zinc Chelate)
65 mg, Manganese (Hydrated Manganese Amino Acid Chelate) 20 mg, Copper
(Copper (II) Chelate of Hydrated Amino Acids) 4 mg, Iron (Iron (II) Chelate of Hydrated Amino Acids) 25 mg, Iron (Iron (II) Sulfate Monohydrate) 25 mg, Iodine (Potassium Iodide) 1,5, 0,10 mg, Selenium (Sodium Selenite) XNUMX mg.
Amino acids, their salts and analogs: Ammonium Chloride 1 g.
Analytical Components: Gross Protein 32%, Gross Fat 12%, Gross Ash 9,4%, Gross Fiber 2,9%, Moisture 6%.
Metabolizable Energy: 3686 Kcal/kg. *Natural ingredients.
NO PRESERVATIVES OR ARTIFICIAL COLORS ADDED. MADE WITHOUT GLUTEN, SOY, OR GENETICALLY MODIFIED ORGANISMS (GMO).
FORMULATED BY OUR NUTROLOGISTS.
Digestive health and care. Retorn cat food contains high quality protein. The recipe has a low level of fat that helps prevent and control obesity, metabolic syndrome and diabetes. Prebiotics offer greater digestibility.
Helps the growth and development of bones for its high content of calcium and phosphorus, thanks to the natural and anti-inflammatory effect of the Omega 3 marine fatty acids (EPA + DHA), which favors the protection of the joints.
Energy and Vitality, with natural antioxidants, without synthetic or semi-synthetic. A balanced diet that will help strengthen the immunity of your pet.
Is this the first time you feed it with Retorn cat food?
We recommend to introduce it gradually mixing the current food with the new Retorn diet during a transition period of 7-14 days.
In this way, we let our pet digestive system to adapt gradually to Retorn.
Customer Reviews
They didn't like it
Sorry, they didn't like it.
It is possible that it is a matter of habit... in case they change their taste, I will let you know.
They love the cans!
Natural Fish food for cats
Excellent
excellent service! My pets love the food. Cat and dog. Thank you!
The michis love it
My two kittens are delighted, I changed their feed gradually and they came from one that they liked a lot, right now I mix the fish with the light and they eat delighted😀
At first they liked it, although the truth is that I'm still giving it to them mixed with sterilized cat feed that they already took. feedback is good
Gorgeous
He has gotten into it and it suits him wonderfully
Free shipping from € 39
Enjoy free transport to the Peninsula on any order equal to or greater than € 39.
Satisfaction Guarantee
If you and your pet are not satisfied, you can return it. Check conditions.
Personalized advice
Ask and solve your doubts with our experts by chat or email.