Product Information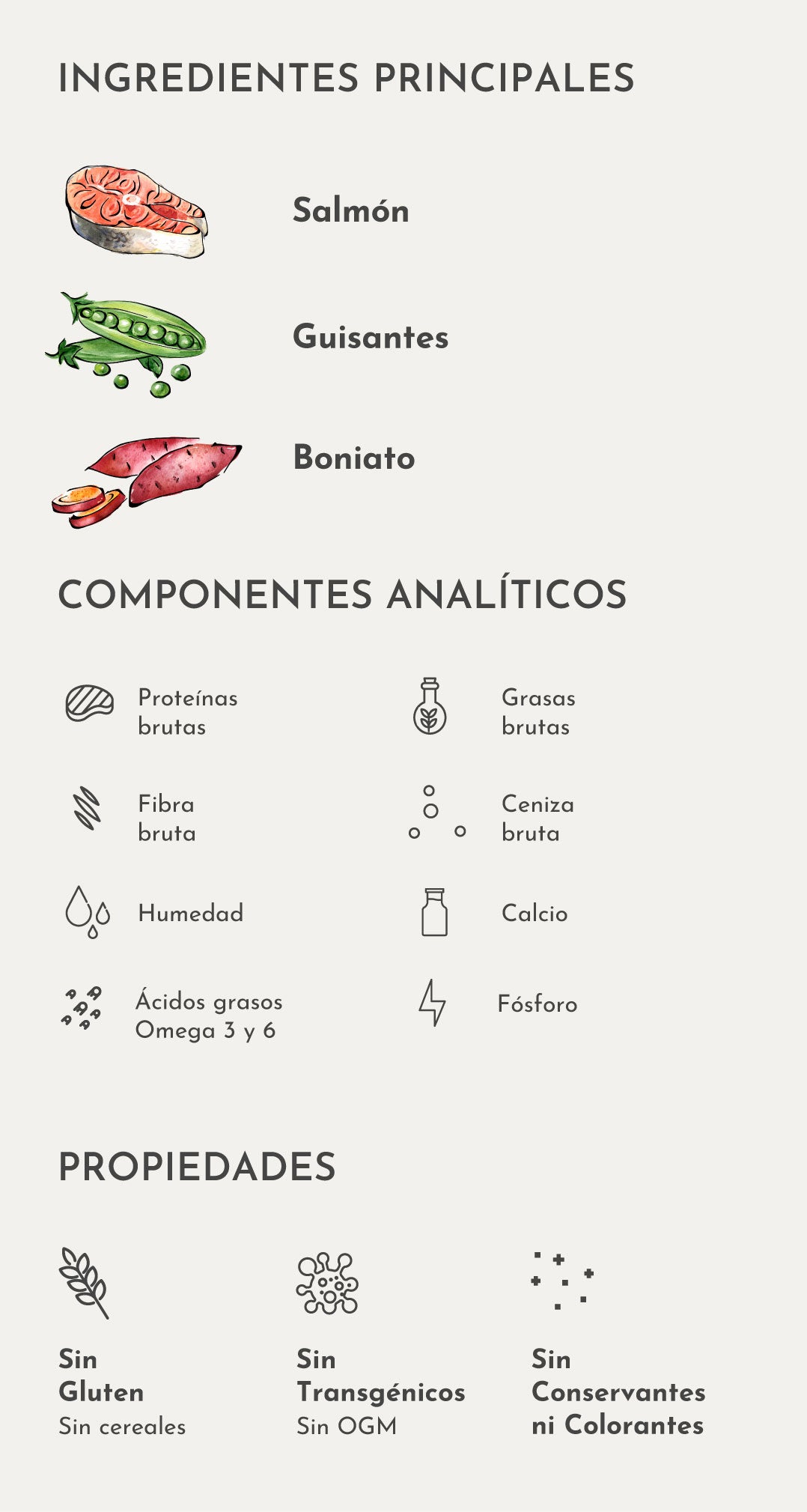 During growth, the energy and nutrient needs of puppies are higher than at any other stage of life.

Important:
Monoproteic Natural Food, with Norwegian Salmon as the only extremely fresh animal protein at the time of processing.
With peas and sweet potato, provide the food with a medium glycemic index, which favors a better regulation of blood sugar.
With brewer's yeast, a natural source of highly digestible proteins.
High content in Omega 3 (EPA + DHA). These fatty acids contribute to a good state of general health. A beneficial effect that helps the development of the puppies nervous system, vision and sense of smell. During the gestation and lactation period, it helps improve the neurological development of puppies.
Balanced content in Calcium and Phosphorus which contributes to the correct development and growth of bones.
With vitamins, minerals and natural antioxidants, always coming from natural ingredients and sources.
Glucosamine and chondroitin from a natural source, salmon is naturally rich in these amino acids that help protect the joints.
Without Cereals (Grain Free). Grain Free. No preservatives, no dyes, no artificial additives.
Composition:: Peas (32%), Hydrolysed Salmon Protein (27%), Sweet Potato (15,9%), Salmon Meal (10%), Salmon Oil (7,2%), Brewer's Yeast (3%), Sunflower Oil (1,5%), Pea Fibre, Calcium Carbonate, Mono Calcium Phosphate, Vitamins, Minerals and Natural Antioxidant.
Additives (per kg): Vitamin A 24750 IU, Vitamin D3 1760 IU, Vitamin E 550 IU, Zinc Chelate of Amino Acid Hydrate 550 mg, Copper Chelate of Amino Acid Hydrate 73 mg, Calcium Iodate Anhydrous 2,3 mg.
Analytical Constituents: : Dry Matter 92%, Crude Protein 27%, Crude Fat 13%, crude fiber 2,6%, crude ash 7,6%, Omega-3 fatty acids (EPA + DHA) 1,35%. Maximum humidity 8%
Metabolizable Energy: 3451 Kcal / Kg.
Composition:: Dehydrated Salmon Protein (32%), Pea Meal* (29%), Sweet Potato* (18%), Salmon Oil, Dehydrated Potato*, Brewer's Yeast, Hydrolyzed Salmon Protein, Sunflower Oil, Sodium Chloride, Carob Flour*, Monocalcium Phosphate, Yeast Cell Walls (source of MOS and β-Glucans 220 mg), Glucosamine (110 mg), Chondroitin Sulfate (110 mg), Mojave Yucca (137.5 mg), Inactivated Lactobacillus Acidophilus ( 55 mg/kg), Lactobacillus Casei Inactivated (55 mg/kg).

Additives (per kg):: Vitamins: Vitamin A 24750 IU, Vitamin D3 1980 IU, Vitamin E 330 mg, Vitamin K3 7,42 mg, Vitamin B1 11 mg, Vitamin B2 22 mg, Vitamin B6 5,5 mg, Vitamin B12 0,055 mg, Vitamin C 38,5 .9,9 mg, Pantothenic Acid 1,65 mg, Folic Acid 38.5 mg, Nicotinic Acid 0,44 mg, Biotin 22 mg, L-Carnitine 198 mg, Betaine 1100 mg, Choline XNUMX mg.
Trace Element Compounds: Zinc (Zinc Amino Acid Chelate Hydrate) 71,5 mg, Manganese (Manganese Amino Acid Chelate Hydrate) 22 mg, Copper (Copper (II) Amino Acid Chelate Hydrate) 4,4 mg, Iron (Iron (II) Chelate ) of Hydrated Amino Acids) 27,5 mg, Iron (Iron Sulfate (II) Monohydrate) 27,5 mg, Iodine (Potassium Iodide) 1,65 mg, Selenium (Sodium Selenite) 0,11 mg.

Analytical Components: Crude Protein 26,6%, Crude Fat 12,5%, Crude Ash 7,9%, Crude Fiber 2,8%, Omega-3 Fatty Acids (EPA+DHA) 3,35%, Omega-6 Fatty Acids 1,4, 8%. Humidity XNUMX%. Flavoring Compounds: Rosemary Extract. Antioxidants: Tocopherol Extracts from Vegetable Oils.
Metabolizable Energy: 3663 Kcal/kg.
*Natural ingredients.

NO PRESERVATIVES OR ARTIFICIAL COLORS ADDED. MADE WITHOUT CEREALS, GLUTEN, SOY, OR GENETICALLY MODIFIED ORGANISMS (GMO). FORMULATED BY OUR NUTROLOGISTS.
Salmon is rich in Omega 3 essential fatty acids, favoring the development of a good immune status in these early stages of your puppy, they protect the articulations and the cardiac and circulatory health, and they help him to grow with a healthy skin and a shiny coat.

Diet with a medium level of proteins and fats that help to the prevention and control of obesity, metabolic syndrome and diabetes. It helps the growth and development of bones due to its high content of calcium and phosphorus, thanks to the natural and anti-inflammatory effect of the Omega 3 marine fatty acids (EPA + DHA).
Very digestible and low allergenic power, contains high quality protein. We do not use by-products.
Energy and Vitality, with natural antioxidants, without synthetic or semi-synthetic. A balanced diet that will help strengthen the immunity of your pet.
Is it the first time you feed your pet with Retorn?
We recommend to introduce it gradually mixing the current food with the new Retorn diet during a transition period of 7-14 days.
In this way, we let our pet digestive system to adapt gradually to Retorn.
Customer Reviews
Natural Food for Salmon Puppies
Natural Food for Salmon Puppies
My dog ​​loves it
I already used it with my other dog and my new dog loves it
Natural Food for Salmon Puppies
Good product
Good product for puppies, and good service.
unsurpassable
I received two 12kg bags, one of them with a slit halfway up the bag, I sent an email and in a matter of minutes they solved the problem by sending me a new bag, the one that was open we have donated to a protector so that it does not wear bad. Very delighted with Return.
It should be noted that my dog ​​goes crazy when it's his turn to eat, with the other I think it didn't happen to him 😅😅
Good
The shine of the hair changed for the better
It's really salmon
There are many doubts about the composition 30 percent of peas, is the salmon salmon or bones?
This is what our veterinarian told us about the feed.
Hi Ana, as we told you by email and we sent you the communication from the Technical Department:
1. Salmon protein and hydrolyzed fish protein are made using a process that involves the whole fish or parts of it. However, bonemeal should be shown on the label as such. We do not use thorn flour but protein (the thorns are not)
2.The quality of the raw materials is measured by their composition, regardless of their denomination, and by their quality. You can see how the amount of protein, fat, and other analytical components are equal to or better than those of other brands that call 'fresh fish' what a processed feed croquette contains.
Thank you for your collaboration!
Natural Food for Salmon Puppies
Free shipping from € 39
Enjoy free transport to the Peninsula on any order equal to or greater than € 39.
Satisfaction Guarantee
If you and your pet are not satisfied, you can return it. Check conditions.
Personalized advice
Ask and solve your doubts with our experts by chat or email.