Product Information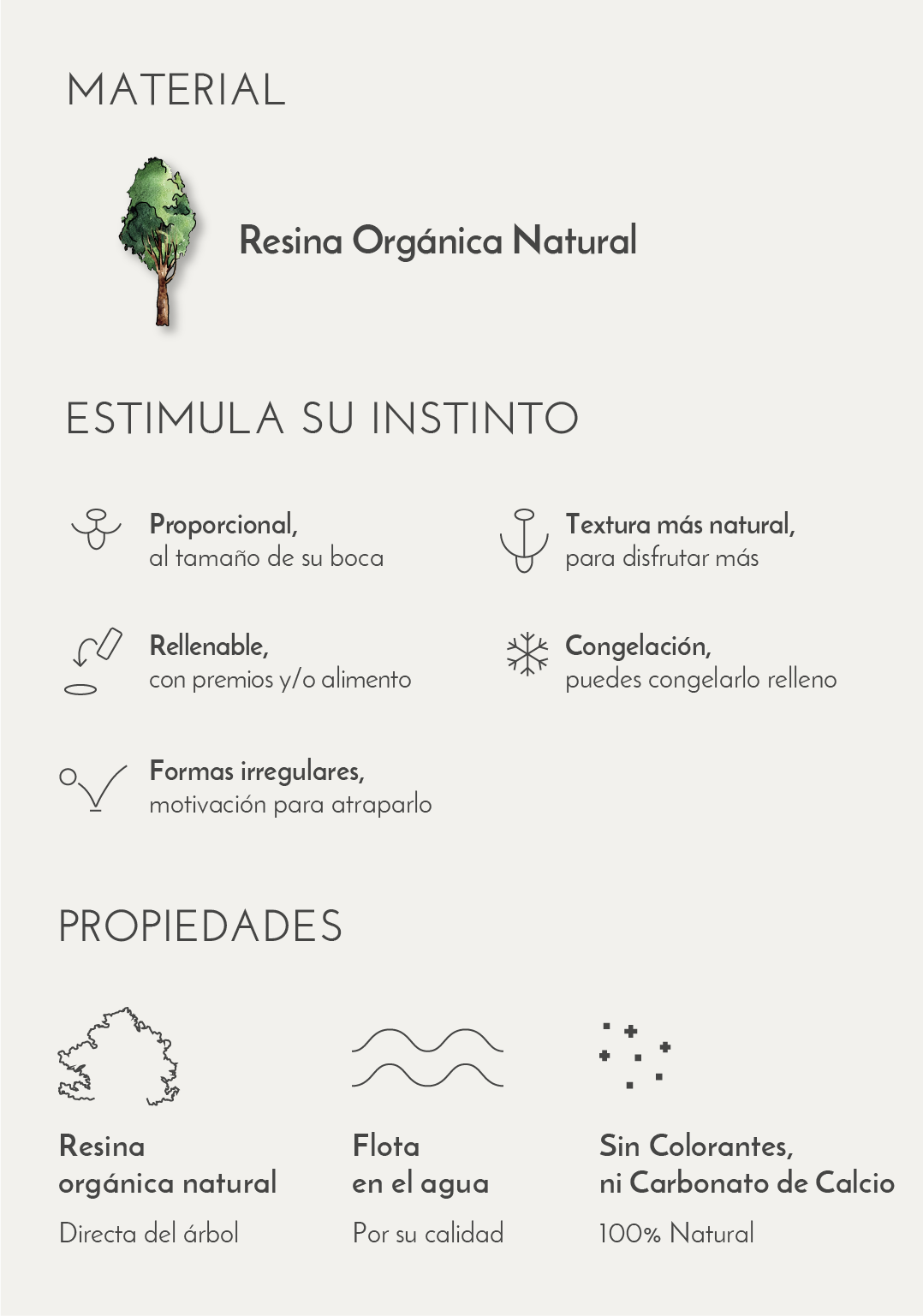 The domestic natural environment makes it difficult for your dog to stimulate his natural instinct, causing unwanted behavior. We can enrich your day to day with the natural Rub dog toy.
Made with natural organic resin, coming directly from the tree, with a natural color, without any dye and no risk of poisoning by wear.
The different forms of Rub pursue that your pet stays entertained at all times.
Your dog will sniff, chase, capture and chew the toy as in its natural environment
Its irregular shapes will cause insecurity in capture
You will enjoy chewing and trying to get your reward
The texture of the natural organic resin will be very stimulating
The quality of the resin makes it float in the water
Is it the first time you play with a Rub?
It is very important to choose the size proportional to the size of the dog's mouth. The size is decisive for a satisfactory experience.

Rub is designed as a refillable dog toy, so that the reward experience is much more satisfying for the animal. You can fill it with wet food o Awards that your puppy is attractive.
The first few times it is important that you get the reward with relative ease. This way we avoid frustration!
You can also freeze it stuffed for a more fun experience or to relieve gums, in the case of puppies.
Try to give it to him at specific times, that he does not always have him at will. In this way we will get you to not lose interest.
Important: Do not use a damaged or broken Rub to avoid intake. Not suitable for children.
Customer Reviews
ruby
We are a little disappointed because my little dog is a Maltese and the rub, even though it is the xs, is too big for him. At the moment he is not amused and does not pay attention to it, I hope that with time he can start playing with it.
It's okay
The toy is fine and my dog ​​likes it. I wanted it as a stuffable toy to use when we leave him alone at home, like we do with another well-known brand toy. In this sense, the puppy finds it much more difficult to get food out of the bowl than from the other and sometimes gives up, which is a downside. But he's only 6 months old and it's possible he'll learn to empty it (as well as being home alone).
Appropriate
I bought it for a 2,7 kg poodle and it suits her perfectly: tight in size and with good texture. He takes out the treat that can be put well, and also plays with the empty toy. A success.
very strong, don't let them bite you to pieces
Perfect for my puppy
My podenca loves it, and not only when it has chicken inside, she plays with the toy and she looks really delighted. He's had it for a week and so far it's perfect.
Charming but too big
We have a miniature dachshund and I bought the egg but it was huge. I'm going to try the mini ball.
Good product, somewhat larger than expected.
My dog ​​liked it a lot. I bought this size (for less than 10 kg) and it is a bit big for her (a 6kg winemaker), I think I will give it to a friend who has a medium dog and in my next order I will order the size xs. Tembien I want to buy the balls when they have them in small size.
I really like that it is a toy made of natural materials.
Loves it
He loves with and without awards inside, it is very resistant
Fantastic
Our little one loved it. It entertains a lot.
Bona qualitat i multipurpose
The meu Foxterrier destroys the pilings. The Rub balls are those that last more than a month, but now you decide to drop the Gossy Egg. L'utilitzem so much to play because the bot is irregular, as to entertain it by posing the pinso a dins or posing a mica of pasta dents a les grooves, així fa an extra of neteja per les dents more petitones del davant that is li stultify month.
Free shipping from € 39
Enjoy free transport to the Peninsula on any order equal to or greater than € 39.
Satisfaction Guarantee
If you and your pet are not satisfied, you can return it. Check conditions.
Personalized advice
Ask and solve your doubts with our experts by chat or email.