Product Information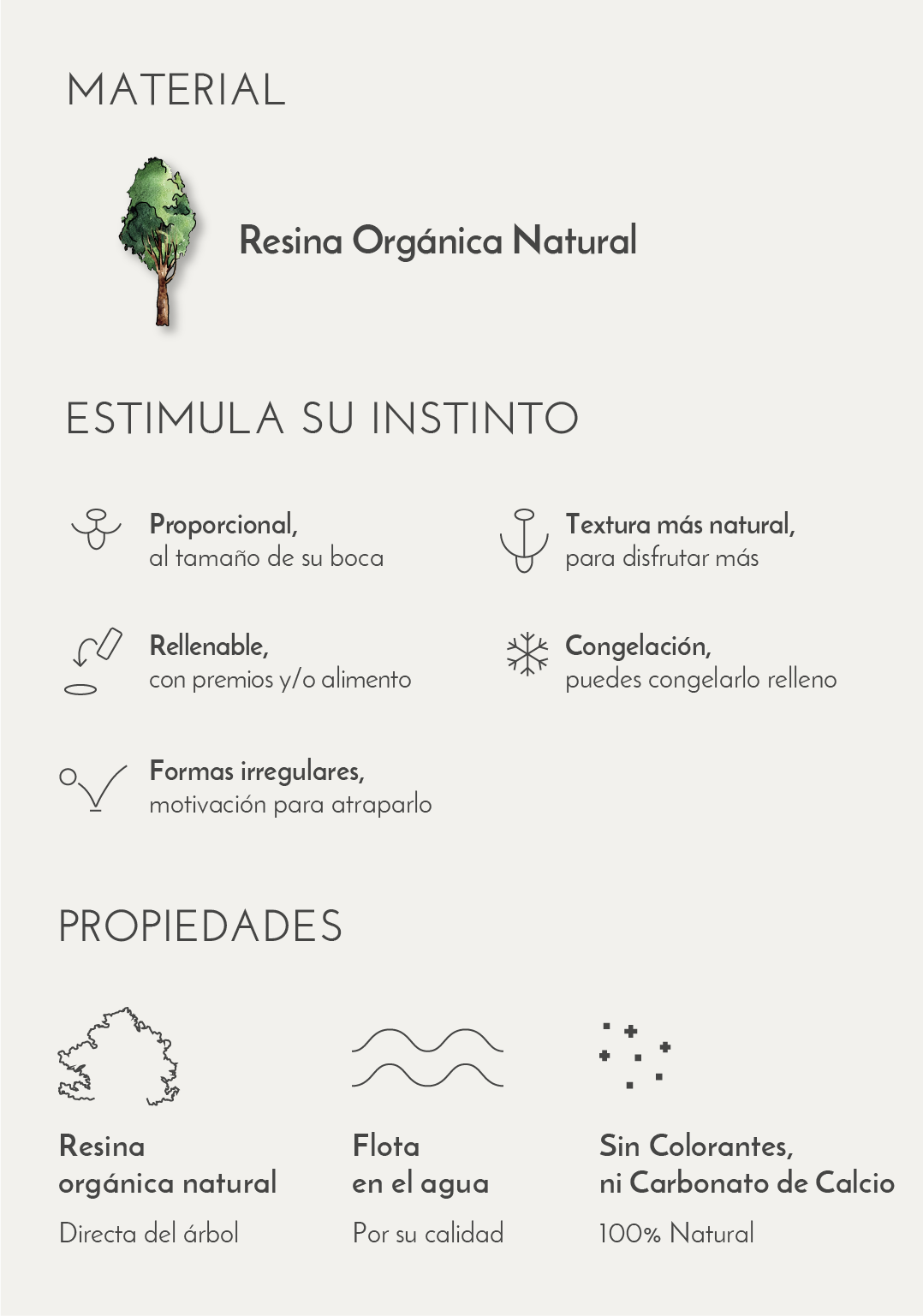 The domestic natural environment makes it difficult for your dog to stimulate his natural instinct, causing unwanted behavior. We can enrich your day to day with the natural Rub dog toy.
Made with natural organic resin, coming directly from the tree, with a natural color, without any dye and no risk of poisoning by wear.
The different forms of Rub pursue that your pet stays entertained at all times.
Your dog will sniff, chase, capture and chew the toy as in its natural environment
Its irregular shapes will cause insecurity in capture
You will enjoy chewing and trying to get your reward
The texture of the natural organic resin will be very stimulating
The quality of the resin makes it float in the water
Is it the first time you play with a Rub?
It is very important to choose the size proportional to the size of the dog's mouth. The size is decisive for a satisfactory experience.

Rub is designed as a refillable dog toy, so that the reward experience is much more satisfying for the animal. You can fill it with wet food o Awards that your puppy is attractive.
The first few times it is important that you get the reward with relative ease. This way we avoid frustration!
You can also freeze it stuffed for a more fun experience or to relieve gums, in the case of puppies.
Try to give it to him at specific times, that he does not always have him at will. In this way we will get you to not lose interest.
Important: Do not use a damaged or broken Rub to avoid intake. Not suitable for children.
Customer Reviews
He did not like it, not even with food
I imagine that the smell does not attract him and if he is hungry he eats what is inside in a moment and if it is difficult to eat he leaves it.
I wash it as it is hot and food spoils.
Today he didn't even want it with food, very expensive and unattractive for him.
They love
I totally recommend it :-) I have bought this model for my two dogs and they love it when we put them inside, although without them they take the toy everywhere. Great value for money.
Chews
He spends the afternoon nibbling on the resin
Freaks you out
The bumpy boat drives him crazy
Funny
She has a great time with him
Free shipping from € 39
Enjoy free transport to the Peninsula on any order equal to or greater than € 39.
Satisfaction Guarantee
If you and your pet are not satisfied, you can return it. Check conditions.
Personalized advice
Ask and solve your doubts with our experts by chat or email.