Product Information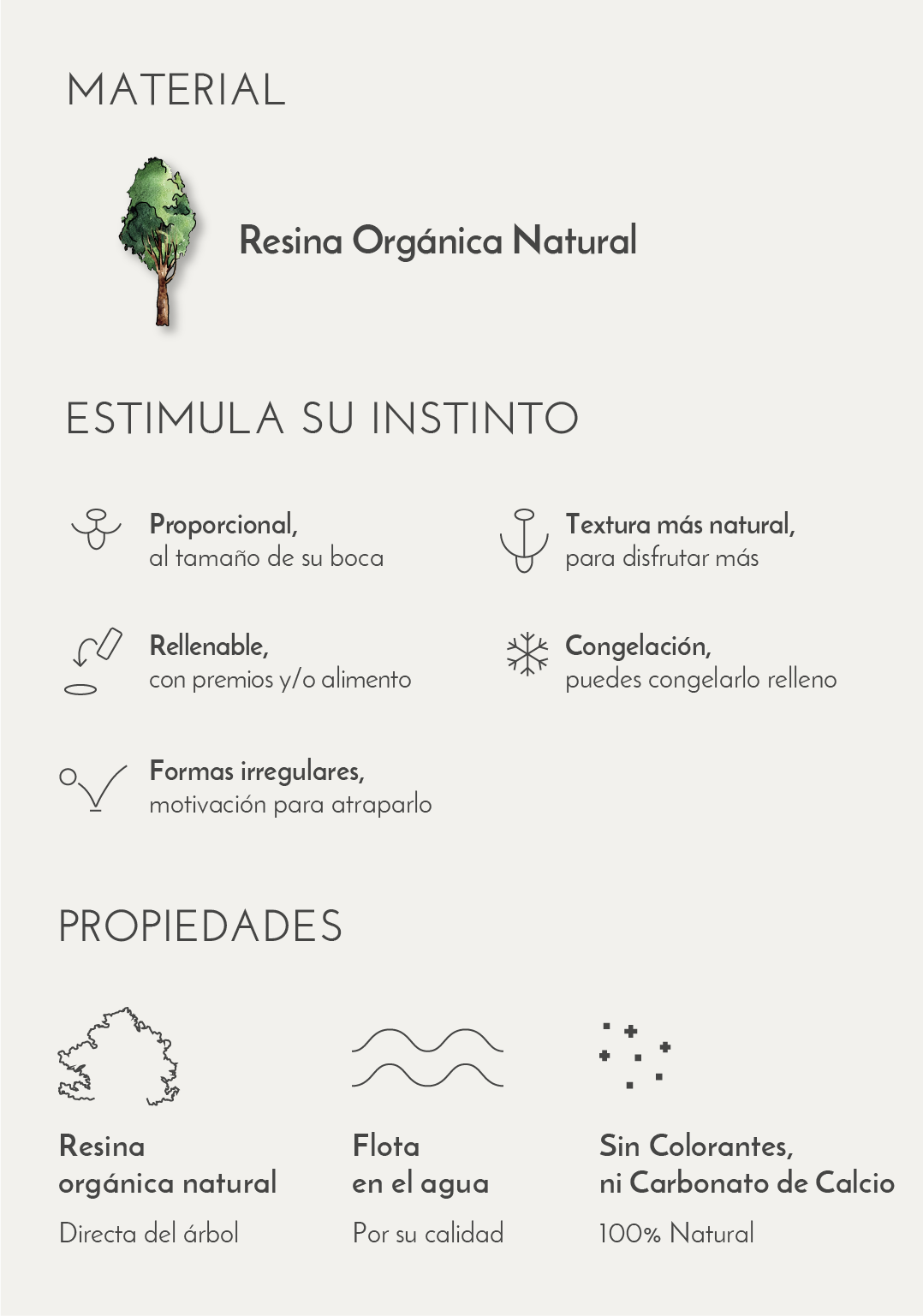 The domestic natural environment makes it difficult for your dog to stimulate his natural instinct, causing unwanted behavior. We can enrich your day to day with the natural Rub dog toy.
Made with natural organic resin, coming directly from the tree, with a natural color, without any dye and no risk of poisoning by wear.
The different forms of Rub pursue that your pet stays entertained at all times.
Your dog will sniff, chase, capture and chew the toy as in its natural environment
Its irregular shapes will cause insecurity in capture
You will enjoy chewing and trying to get your reward
The texture of the natural organic resin will be very stimulating
The quality of the resin makes it float in the water
Is it the first time you play with a Rub?
It is very important to choose the size proportional to the size of the dog's mouth. The size is decisive for a satisfactory experience.

Rub is designed as a refillable dog toy, so that the reward experience is much more satisfying for the animal. You can fill it with wet food o Awards that your puppy is attractive.
The first few times it is important that you get the reward with relative ease. This way we avoid frustration!
You can also freeze it stuffed for a more fun experience or to relieve gums, in the case of puppies.
Try to give it to him at specific times, that he does not always have him at will. In this way we will get you to not lose interest.
Important: Do not use a damaged or broken Rub to avoid intake. Not suitable for children.
Customer Reviews
Good but could be improved
My 5-month-old puppy has already cracked the top part. I mean, I don't know if it's a problem with the upper part or with the whole toy, but the truth is that it hasn't lasted long enough.
Perfect Car
I have a Weimaraner whose toys don't last long, with this one we have not only managed to prevent him from breaking it, but he is delighted with it because of its texture, it has become inseparable.
100% recommended
Resistant
My dog ​​loves to bite and that toy is his favorite! good buy
Likes
She likes it but it only entertains her if there is something inside, I hoped she would like it by biting it, since the touch is very good.
Excellent
Excellent toy for my dog, one of the few who resist her since she is a pitbull and it is the one that has lasted the longest
Fantastic
My dogs have a great time and are super entertained... I recommend them
Perfect Car
The perfect toy, it doesn't break and the dog is delighted!
Good option
Greta, my 2 month old weimaraner loves it! He plays a lot and entertains himself while he pecks.
I have tried it frozen but it gets tired, I think it is still too small.
Afraid of breakage… it hasn't been broken so far but its teeth are quite sharp and it cracks the Bouncy's betas.
However, I think I will ask for more. For now I have this one and the Gossy Egg which he also likes a lot.
A success.
Rub Bouncy Christmas Star
My dog ​​really enjoys it and it looked great on my Christmas tree.
Free shipping from € 39
Enjoy free transport to the Peninsula on any order equal to or greater than € 39.
Satisfaction Guarantee
If you and your pet are not satisfied, you can return it. Check conditions.
Personalized advice
Ask and solve your doubts with our experts by chat or email.